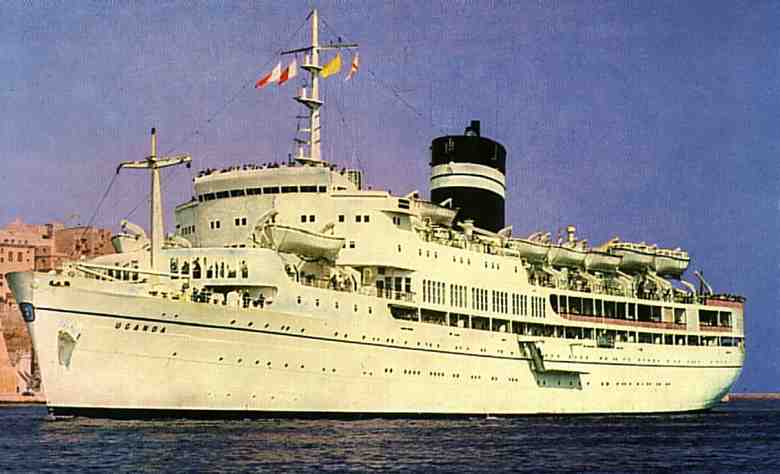 The Valiant SS Uganda
I was talking holidays to my beloved one day and by chance I mentioned cruises. My wife asked if I had ever been on one and all of a sudden my mind flew back to the only time in my life I had ever been on a cruise all those years ago... back to 1970... back to a Secondary Modern school and the SS Uganda.

I also realized that a site dedicated essentially to voyages, temporal or spiritual, like this one contained absolutely no trace of what, in retrospect, was the catalyst, the original trip and possibly the foundation for journeys to come!

Tempus fugit... I realized then that the only cruise of my life so far was an educational cruise with my school of the time, Buckingham Gate Secondary Modern, fortunately or unfortunately - you choose - no longer a school. The exact dates and route of the cruise around the western Mediterranean are lost in the mists of time but fortunately, the memories of stopovers in places like Algiers, Malaga, Portimao (Algarve), Sardinia and Gibraltar have remained.

In spite of the lack of photos, certain memories of this trip are still so strong (perhaps a little distorted by time) that they have the habit of resurfacing from deep beneath thoughts and concerns of every day at the strangest of moments. Fortunately, the memories came flooding back as I started to write. Some were typically tourist - like watching porpoises swim in front of the ship, flying fish gliding over the water or the simply splendid sunsets. Some memories are typically schoolboy, like the throwing overboard of dozens of brown paper bags, containing breakfasts stomachs refused to keep down after a bumpy ride through the bay of Biscay, or of some several hundred schoolkids throwing oranges at 2 boys waving at the Uganda as it docked in Gibraltar. Some memories are of a teenager learning about life and... girls. I can't really remember the evenings in the disco but I can remember pestering a school mate for one of his "Ben Sherman" shirts, my mother having packed nothing but white shirts and school uniforms, whereas other kids mums had packed jeans and leisure shirts. Thereafter I always packed my own bags!

I looked on internet for photos of the Uganda, and by extension photos of the places we stopped off at during the cruise, regretting the lack of my own photos. I do hope the real owners of the photos won't be offended at my using them but I have to admit that taking holidays photos was the least of my worries at the time. Following a recent major upheaval in my life I was more absorbed in enjoying a new-found freedom, and chasing after a girl called Gina from Golders Green. I eventually made up for it on two successive ski trips to Austria and Switzerland with Pimlico school, where I did manage to immortalize moments by snapshots, long since lost, and memories* that most certainly will not find theirs onto paper!

* The real appreciation of guarding such memories was only understood after another major upheaval later in my life. Fortunately friends and family have helped me rebuild an archive of photos that date back to circa 1966. I do not want history to repeat itself so I have made it a rule, a duty - without it becoming an obsession - to leave a trace, not just of me but of a way of life, a trace of the state of life and the world I live in and as I go through it.

Algiers and the Casbah. A lot of water under the bridge between the time a 13/14-year-old stepped off the ship one warm summer morning in the port of Algiers and the first time I heard the Clash sing "Rock the Casbah". A lot of time had passed for both for myself and for Algeria, the country itself...I remember that when stepping off the ship images of encyclopedias I had read came quickly to mind. They stayed a while before I was brought back to reality by the warning words of the teachers "Keep your hands in your pockets, keep together and don't antagonize the locals!" and then there we were, in the Casbah.

The memory that came back to me recently, after all this time, was of walking through the narrow streets of the Casbah, up stairs and down steps, round corners and under arches until we finally came out into a small square. The empty square was a total surprise to me. The total quiet and peacefulness was so striking and refreshing after the hustle and bustle of the Casbah. Surrounded by a two-storey building the floor and walls of the courtyard was covered with white and blue tiles with a fountain in the middle... it was a haven of calm and I don't think I appreciated or took in at the time that it was probably a small courtyard of a mosque as I was later to see in other places.

Once out of the Casbah, and as expected, a couple of girls announced that their rings and bracelets had been stolen... well they had been warned but probably thought the teacher was talking to the rest of the group not them but in hindsight I would say that the kids who lived in the Casbah loved it when the hordes of schoolkids came into the casbah. There was always something to be had, sort of national sport. Back at the ship and after a head count the ship set sail and I was off on the next leg of the trip, never to set foot in North Africa, or in Africa for that matter, for another 37 years and a quick trip to Tunisia, but that's a story for another day and another page.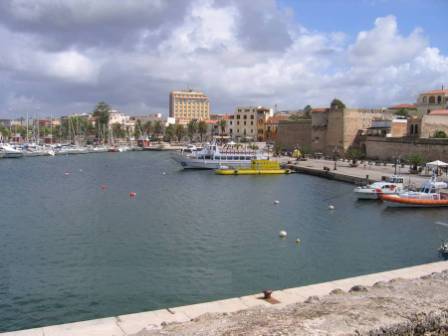 Sardinia! Yet another first and last...the first and last time I ever set foot in Italy. Honestly, and in spite of the multitude of things to do and see - from Venice to Stromboli and everything in between - Italy had never inspired me. I had always found reasons to go somewhere else never to Italy and the thing I remember best of Sardinia are the holiday snaps of some Aunt who went there around the same time.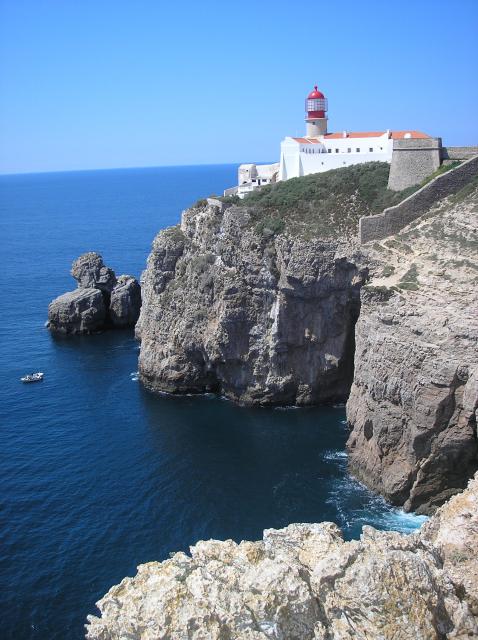 The stop in Portimao, in the Southern Portuguese Algarve, is a vivid memory of ice cream and bicycles, with registration plates, which I thought that was hilarious. It was also a chance to see the end of the world, literally, also known as "Cape Saint Vincent"

Being from Devon I had often been to the sourthern most type of England, it's most westerly point as well, also called Land's End so I was curious to see how the end of the World fared up and I wasn't disappointed. A lot sunnier and warmer with cliffs, crevasses. lighthouses and stories of famous sea battles - Battle of Cape St. Vincent - to make it a lot more inspiring to the schoolboy interested in history I was and have remained.

Moral of the story? It was time to rectify things and correct an oversight by adding this particular page to this particular website, defining in the process - I hope - the setting for everything that came after and is still to come. It was also the occasion to turn another page and shed the influence other people I have known in my life, who had never wanted to go on a cruise. The oversight was duly corrected and the idea of a cruise is being seriously studied, especially as coming from a landlocked country my beloved has never been on a cruise and isn't adverse to the idea of going on one to see what it's like. It might be the Queen Mary 2, not just yet anyway, and certainly never again the SS Uganda, no longer of this world, but the choice is vast.
The oversight has been corrected and the idea of a cruise, at some future date, is being studied, especially as coming from a landlocked country my beloved has never been on a cruise and isn't adverse to the idea of going on one to see what it's like. It probably won't be the Queen Mary 2, just yet, and certainly never again the SS Uganda, no longer of this world, but the choice is vast.

Analysis

I'm not overly passionate about cruises, certainly not to the point of religiously going on one or two every year and foregoing other forms of holiday but I do see their interest and I love the almost mystic sensation that being on a ship in the middle of nowhere can procure… that of being alone in the universe and at peace with one's conscience and maker!